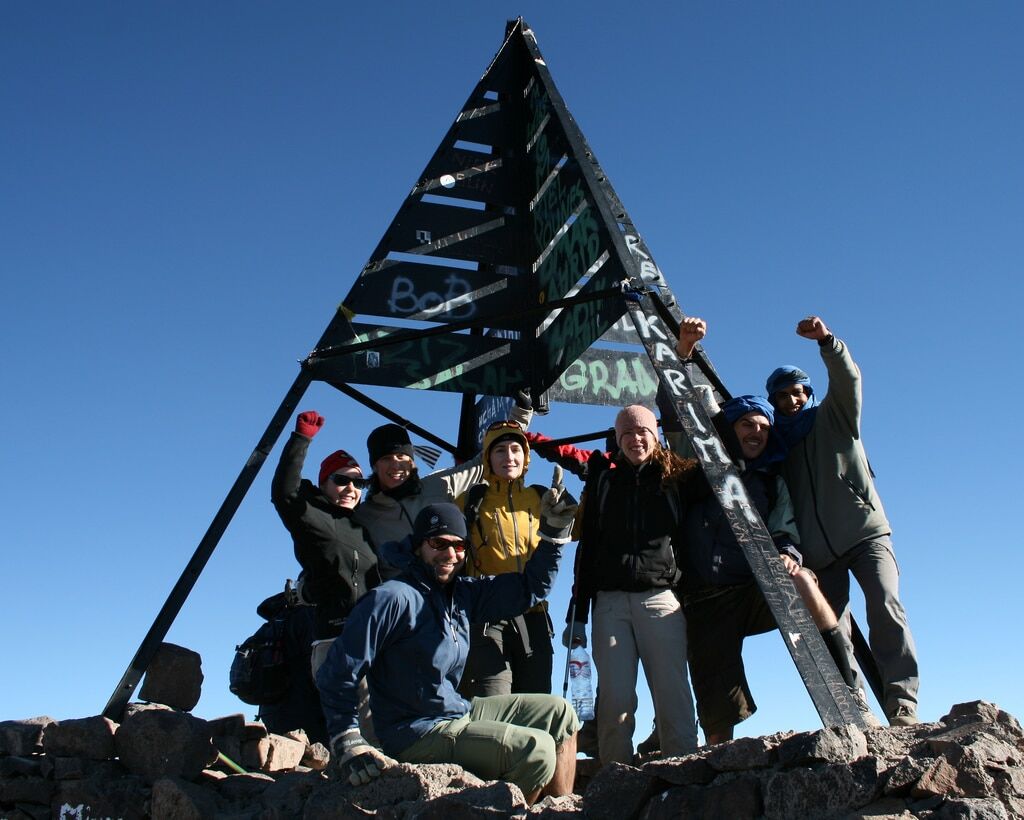 important tips on preparing for the toubkal climb
PHYSICAL PREPARATION FOR TOUBKAL ASCENT:
Even if climbing Toubkal is not a difficult adventure technically, you have to be in good physical condition. This is by no means an ascent to do as a first hike. The months and weeks before the ascent, you must consider doing several small hikes or some workout to prepare your body. You should go jogging twice a week for 5 to 10 km. This will help you a lot when climbing mount toubkal.
EQUIPMENT & GEAR TO CONSIDER FOR THE TOUBKAL CLIMB:
The equipment to climb Toubkal does not differ from a good hiking equipment in general. That said, we must ensure that we have adequate shoes for the nature of the field. Also consider the right hiking equipment in the snow: snowshoes and waterproof clothing.
Here is a list of indispensable hiking equipment and accessories for a good preparation:
Clothing: Good walking boots and socks, Comfortable shoes/slippers for camp/guesthouse, Trekking pants, Lightweight waterproof, over-trousers / rain-pants, Underwear, Long johns, T-shirts, Fleece jacket or warm jumper, Lightweight windproof/waterproof jacket, Hat, sunglasses, Lightweight thermal or fleece, gloves .
Equipment: 3 to 4 season sleeping bag, Walking stick, Day sack/backpack, Headtorch / headlamp, Basic First Aid Kit , Water bottle or camel back (recommended), Penknife (useful)
Other: Personal items (e.g. towel, sunscreen, wipes, toilet tissues, antibacterial handwash) , Small First Aid Kit including insect repellent, plasters, meds, Small rubbish bag to carry out what you carry in Matches e.g. burn toilet paper Trail snacks, Zip- Up bags for camera, Repair kit (eg. needle, thread, duct tape)
GUIDE OR WITHOUT A GUIDE FOR THE CLIMB OF TOUBKAL:
Some people say that a guide to climbing Toubkal is not necessary for people who are used to hiking.
They claim that the path is simple and the ascent is not technical. That said, it is strongly recommended to hire the services of a guide when you are a beginner hiker. A guide could be very useful in case of glitches and help to a maximum of security. So, don't hesitate to contact a local company to arrange all the services during your toubkal hike.
WHAT ARE THE BEST TIMES TO CLIMB UP MOUNT TOUBKAL:
You can climb up mount toubkal all year round, but there are some best periods to go on a hike to this highest peak in Morocco.
1. Recommended period: From April to October is the ideal time to climb Toubkal.
2. Periods to avoid: In winter when there is heavy snowfall and in summer when there are rain storms.
We hope that these tips will be useful for your preparation to hike to mount toubkal. If you need any info, feel free to contact us.