mount toubkal without a guide
There are many people who prefer to climb a high mountain without the use of a local guide. Some people can't afford it because they have a limited budget for their Trek. Whereas other people want to reach that peak without the help of anybody.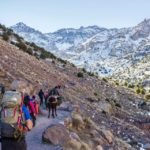 After that trafic incident in Toubkal area, tourists wonder if it is still possible to climb mount toubkal without a guide!
Unfortunately, at the time being it is compulsory to hire a local guide to lead your way to the top and back to Imlil valley which is the starting point of Trekking tours to mount toubkal.
In my point of view, to face all the difficulties that can be encountered on Mt toubkal, the presence of a professional local guide at your side is essential. In addition to adapting to your pace and motivate you in difficult times, it will adapt to all situations encountered.
Although using a local guide is a a bit costy for those who have limited budget, this is the best way to make the most of your ascent and to achieve it safely. It is really worth it to hire a guide.